Workplaces all across the country are eager to start re-opening and offering services to their customers, and many are unsure how they can achieve this safely and efficiently. Re-opening workplaces in a COVID-19 world is more than just sanitizing areas and maintaining social distancing. Of course, that's critical, but it's just the tip of the iceberg.
The truth is, there are many different processes that will need to be taken on weekly, daily, and even on an hourly basis to maintain safe workplaces and businesses. Not only will it be complicated and strenuous to achieve this level of safety collaboration, but it will also be equally as difficult for workplaces to monitor and keep track of their safety processes.
Inspired by Tesla's Return to Work Playbook, we wanted to provide your workplace with some guidance on how technology can provide you with all of the digital tools and resources you'll need to safely re-open and maintain safe workplaces and businesses after you're back up and running.
One of the first hurdles any workplace is going to have is checking the status of their employees, vendors, or contractors. In addition to gauging the willingness and ability of employees to return to work, businesses and organizations will also need to be able to perform daily health checks to make sure they aren't sick or experiencing symptoms.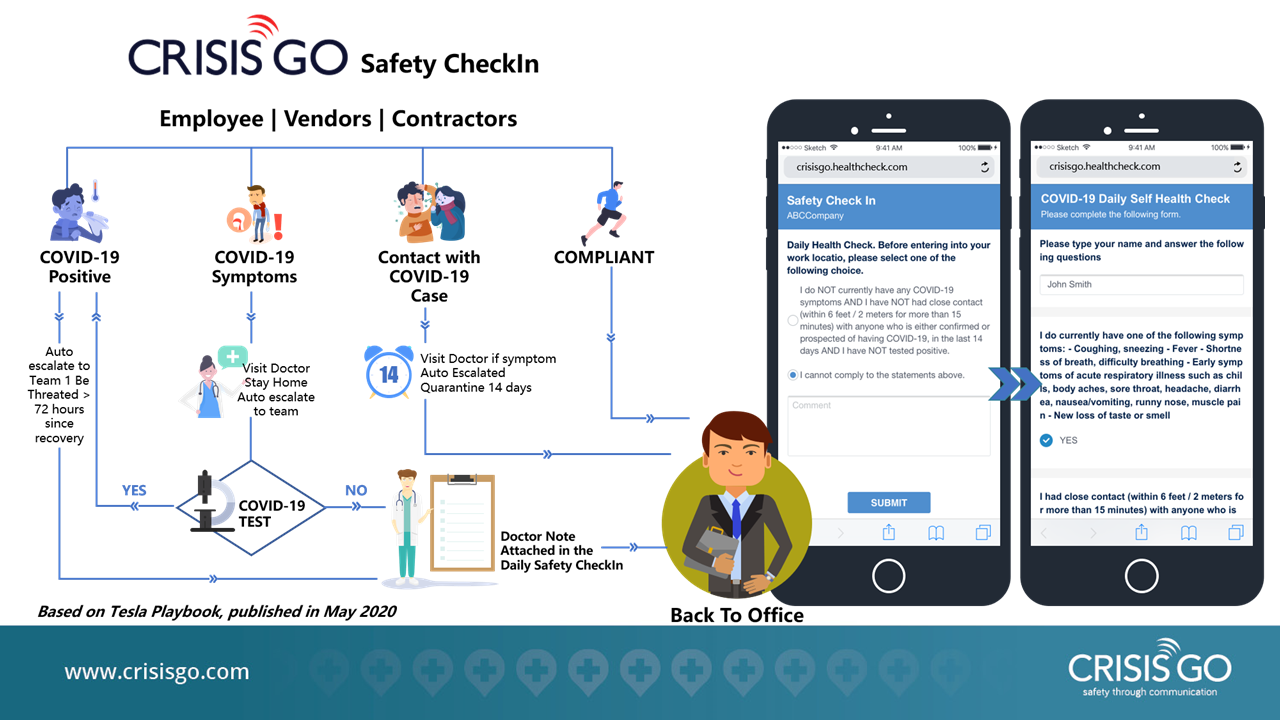 If an employee has tested positive for COVID-19, you will need a way for their supervisor and your Human Resources department to immediately know and begin coordinating the appropriate response process with a system that allows team members to collaborate on tasks.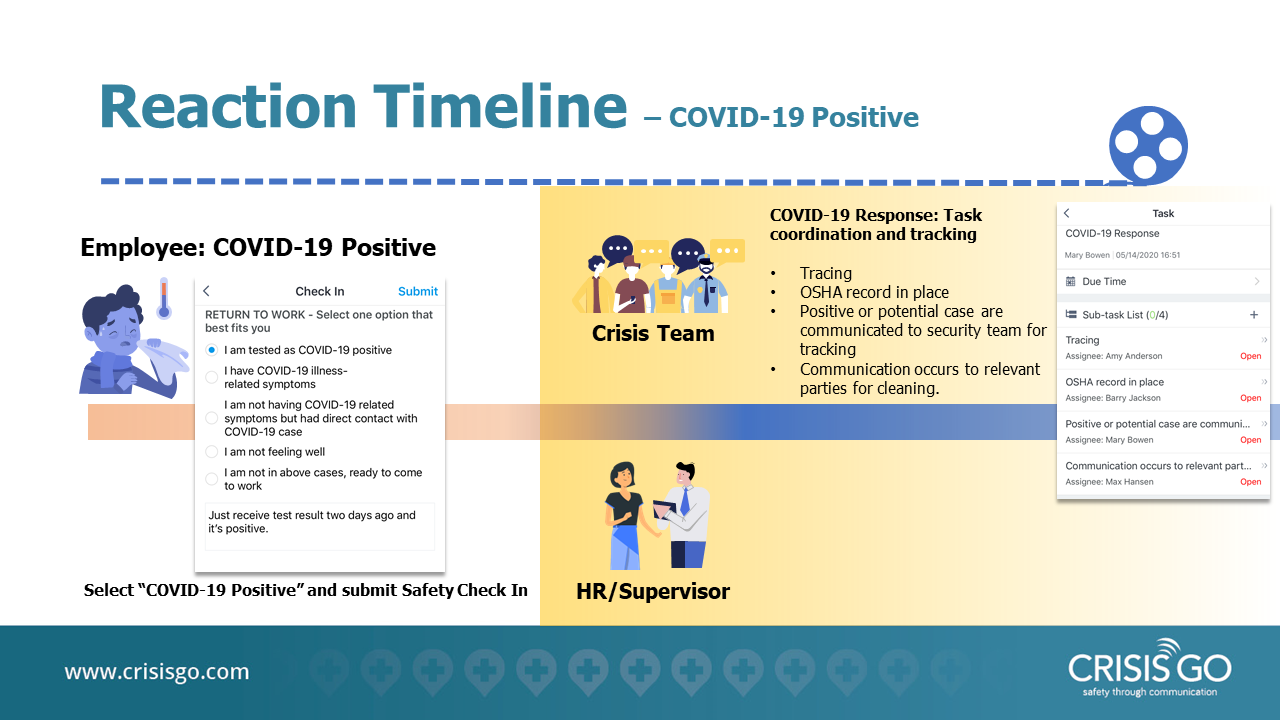 If an employee is experiencing COVID-19 symptoms, you will still want their supervisor and your Human Resources department to know as soon as possible. Provide your employees with a detailed and easy-to-use checklist that will help them follow the proper protocols for a safe return to the workplace.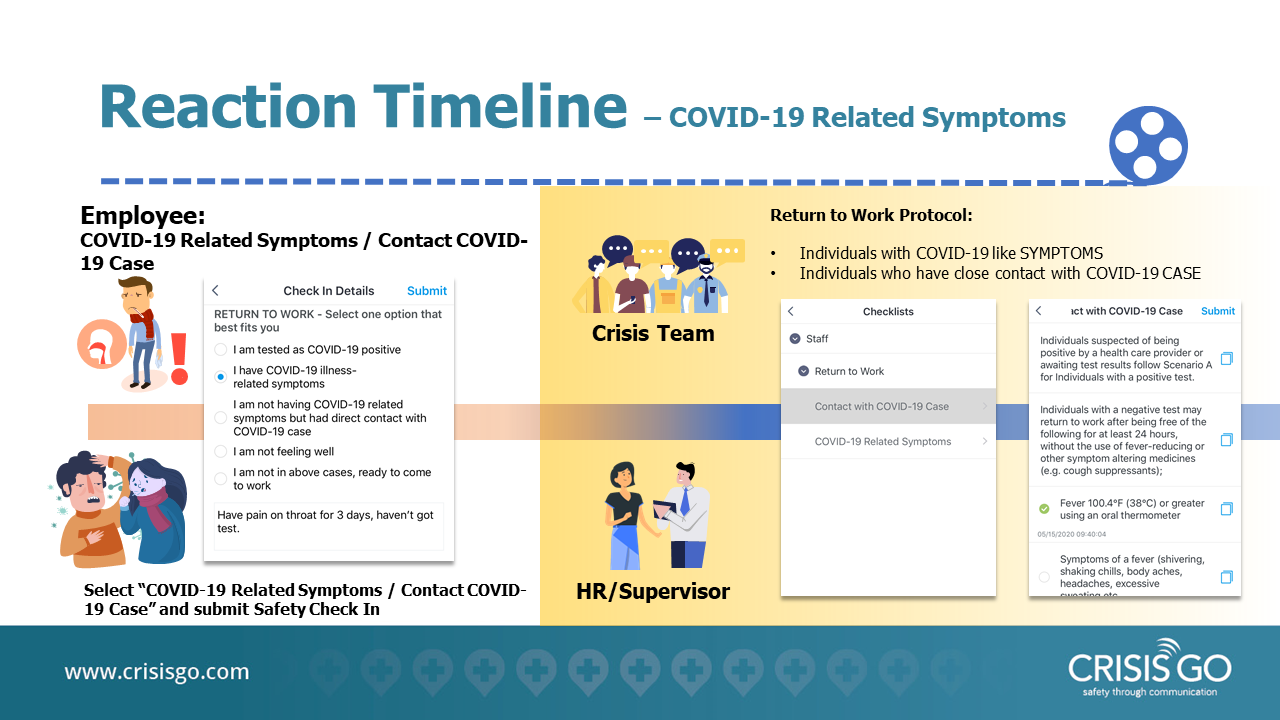 It's also very likely that there will be some grey areas regarding how your employees feel and whether they have symptoms of COVID-19. Be sure your organization has a way to check the status of your employees while also providing the ability to allow employees to describe their situation in greater detail for more clarity. Your organization should also be able to engage with employees directly so you can communicate about key details about their situation and share information via text, video, images, or other file types.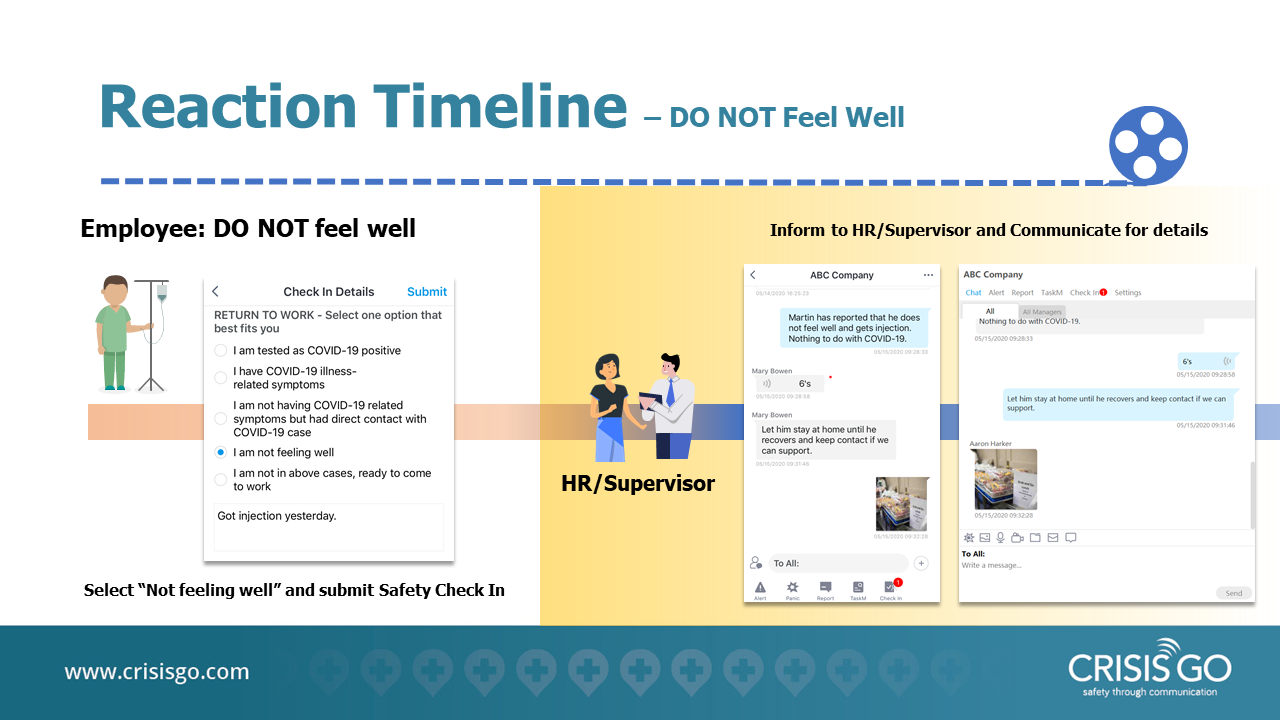 When your stakeholders report that they are healthy and ready to return to work, you should have a way to continue to check their status when needed and provide the protocols needed to establish and maintain a safe and trusted work environment, like routine temperature screenings that can automatically trigger an alert to your crisis team if a fever is reported.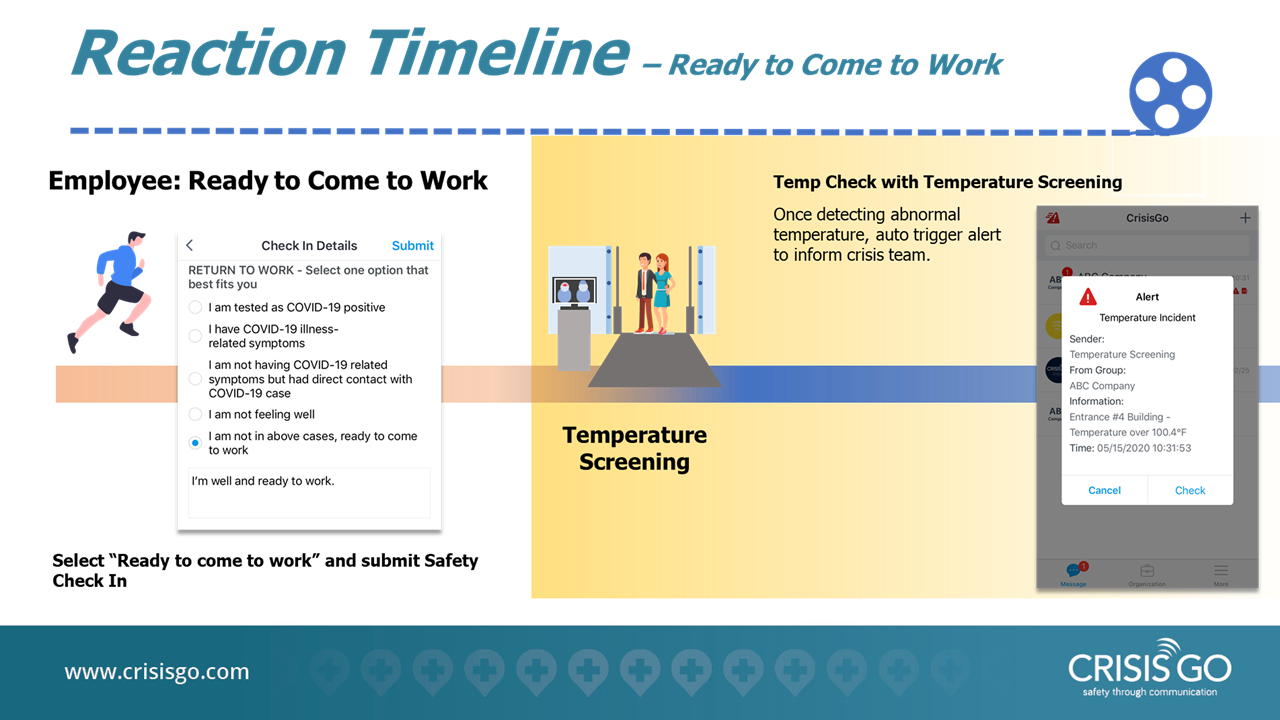 These are just a few examples of how your workplace can re-open and operate safely. There will be many challenges and surprises on the road ahead as all workplaces navigate through this unprecedented time. Learn how CrisisGo can provide you with all of the communication-based software your workplace needs to handle the complex tasks your workplace will face as well as observe and understand the data that you're already gathering. Let our technology help your workplace analyze your safety successes and failures so that you can make more informed decisions.