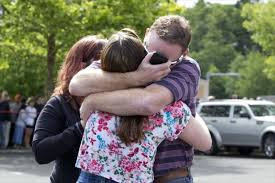 Using Mobile Technology for Student Reunification

Written by Rebecca Renshaw
www.crisisgo.com

In our journey of delivering a mobile emergency response app to the k12 industry, the CrisisGo team has met many inspiring individuals who have had their lives redefined by tragedy or adversity.

One of those individuals is Michele Gay, co-founder of Safe and Sound Schools; a Sandy Hook Initiative. Michele's quest, since the horrific loss of her daughter Josephine during the Sandy Hook tragedy, is to search for tools, techniques, and technologies that will prevent the same type of event from ever recurring. One of her most painful recollections of that day was the confusion that surrounded the reunification process.

Another parent, Alissa Parker, whose daughter Emilie was also killed at Sandy Hook Elementary, explained the confusion at Sandy Hook:
"We were told by three different people to look for our daughter at three different places. The chaos made it so much worse for all of us."

Being prepared for a crisis is only one aspect of total emergency planning. Knowing what to do in the aftermath and how to reunify students with their parents is a second critical component.

In the wake of a major crisis such as a kidnapping, shooting incident, inclement weather, or chemical spill, school administrators must calmly provide timely reunification of students with their parents. This is no easy task as it may be done in chaotic conditions that are highly charged with stress and emotion. Reuniting frightened, crying students with equally fearful parents is not something that can be properly done without forethought. Student reunification requires systematic, logistical preparedness and practice done far in advance.

In the past, there has only been a clipboard with a list of actions for each responsible party to complete. Actions and decisions take place in silos, with no transparency. No one on the reunification team knows who has been released to parents, if the parents were authorized, or where certain children are in transit to the reunification site.

But, what would the reunification process look like if it were accomplished using a mobile application? Certainly, it would look far different than it looks like using paper, pen, and a clipboard.

Authorized persons in the process would have on their phones their specific reunification roles along with the updated daily rosters of the students for each building. The mobile app would contain the list of all authorized parents or guardians associated with each child. Moving through each stage of the reunification process, the mobile app checks students in and out of each stage while maintaining accuracy and complete visibility of the process with date and time stamps. A portal also shows the progress of the reunification going on at multiple sites simultaneously.

If you have an interest in learning more about how mobile technology can transform student reunification by providing two-way communication channels, rosters, reunification maps, and a systematic process, please connect with us at info@crisisgo.com or 314-669-9022.

Employee Spotlight:

Angela Morber, Implementation Manager


Angela Morber with her dog, Pablo

February's employee spotlight is on Angela Morber, who has been with CrisisGo for one year. If you have had any contact with Angela, you will agree that she is one of the most pleasant, upbeat individuals on the planet. You will always see a smile on her face and, if you are on the phone with her, you will still hear the smile in her voice.

When asked what her daily tasks are at CrisisGo, Angela explains, "I help onboard new customers by putting their emergency plans into the app, which includes things like maps and users. I also spend a lot of time following up with customers and making sure they are moving forward in the implementation process."

Angela says she absolutely loves her job and it feels great to be a part of a team environment here at CrisisGo. "I think what I love most about it is I get to work for a company that can help save lives and improve communication in times of a crisis. I also enjoy working with districts who want to try the CrisisGo app out before actually becoming a customer. Everyone seems to love the app and all of its features, regardless if they are a school district, a child care facility, or a business!"

In her spare time, Angela enjoys participating in 5k events. Having just recently moved from a small town in Illinois to St. Louis, Missouri, she is finding there is always something to do. Angela also is quite the adventurer as she loves to take spontaneous trips when time allows. She also enjoys jigsaw puzzles, running/walking, and meeting new people.

CrisisGo is glad to have Angela on the team and we encourage our customers to reach out and give Angela a virtual high five for a job well done!


Are you a fan of CrisisGo? If so, refer a friend and save your district money! Here's how it works:

When a referring district refers another district to sign a 12-month contract with CrisisGo, the referring district gets $100 off their renewal rate (Up to $500 per year). The district referred receives 2 free video accounts of $500 value. Happy Referring! If you have questions or want to refer someone today, email us at salesinfo@crisisgo.com. Thanks!

Quote from CrisisGo's CEO Jim Spicuzza:

"Mobile Student Reunification improves the speed and increases the accuracy of releasing students to guardians. The mobile Student Reunification also documents the date, time and guardian that picked up the child, in real time."

Customer Comments

"There are only a few things I trust for sure, and CrisisGo is one of them!" - LeVaughn Smart, SRO, Kirkwood District R-7

"It's honestly amazing how well prepared my school is now that we have CrisisGo. I highly recommend to ALL schools & administrators!" Katherine Stearns, Math Teacher, Canaan, CT
"I can tell you that this app has not only met but exceeded our expectations on very many levels. We're very impressed with the final product and what we'll be able to accomplish with it."

Deputy Jacob Meyer
Police School Liaison, School District of Chilton

February Partner Feature: Missouri School Boards' Association

The Missouri School Boards' Association (MSBA) is a private, not-for profit organization that exists to help local school boards succeed. It does this by providing education including board member training; services such as comprehensive policy support, legal assistance and superintendent search guidance; advocacy at the state and national levels; and cost-saving programs designed to allow school boards to put maximum resources in the classroom. MSBA's Center for Education Safety is the only organization in Missouri supporting school safety and security.

http://www.msbanet.org/index.php

CrisisGo is always proud to be a partner with an organization that wants to help teachers,administrators, parents, and students by bringing them quality ed tech content such as the CrisisGo app.

To learn more about Captain Mike Bolender, click here. To join the event, just click the image above.