Around this time, the various grant-related agencies begin to talk about what they plan to do next year for schools and law enforcement agencies in all sorts of areas. This next year looks to be a promising one, with funding available for schools in the area of School Violence and Safety Prevention Programs. Additionally, it appears that there will be substantial opportunities for funding for working with responding police departments in the areas of support and notification and training for their responses, along with areas of the Use of Force, and with assisting in the many Covid-19 concerns.
The programs that people should be looking for are under STOP – (Student, Teachers, and Officers Preventing School Violence Act) and COPS (Community Orientated Policing Services), all under the School Violence Prevention Program. There is also a great deal of funding for only schools and only police departments available for everything from School Resource Officers in schools to patrol officers to equipment and training.
The estimated funding for these efforts comes from several sources, but the biggest is the Department of Justice, right now they are forecasted FY 2021 budget proposal totaled $31.7 billion for the Department of Justice to support federal law enforcement and criminal justice priorities of the state, local, and tribal law enforcement agencies.
The Department of Justice's proposed areas of investment included:
+$942.2 million to strengthen federal law enforcement's ability to counter violent crime and support communities to prevent violent crime.
+$638.8 million in resources to counter incidents of mass violence and support state and local agencies in their efforts to prevent violent crime.
+$122.8 million in program enhancements to address critical national security and cyber threats.
$4.3 billion in discretionary and mandatory funding for federal grants to state, local, and tribal law enforcement and victims of crime to ensure greater safety for law enforcement personnel and the people they serve, and critical programs aimed at protecting the life and safety of state and local law enforcement personnel, including the Public Safety Partnership Program and the Project Safe Neighborhood Program
There will be more to follow as the final numbers come out. As you can see in the graphic, the estimated dates that key individual grants start beginning now, but these dates will certainly vary as the year goes by. While these grants become available, it takes three to six months to receive the funding, so it's critical to get these applications in as soon as possible when the grant opens.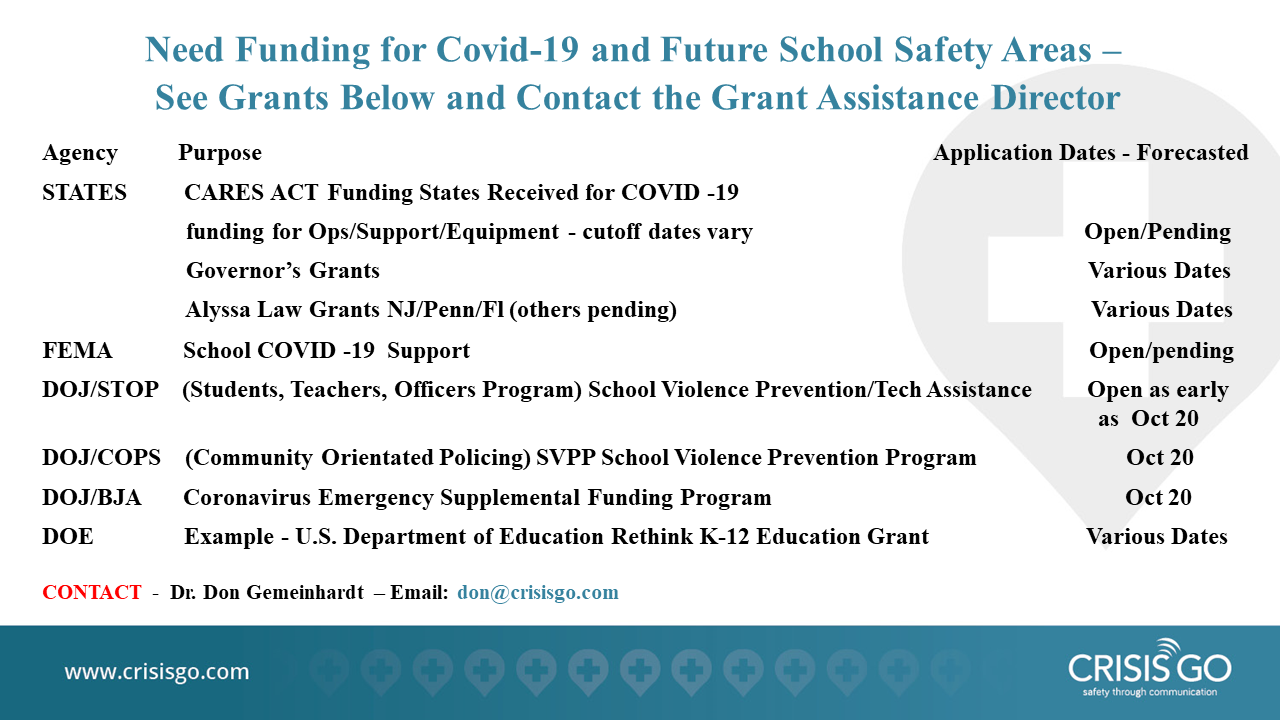 In my future blog posts, I'll continue to give updates and specific requirements for safety grant opportunities, so schools and organizations can match it to their needs. However, CrisisGo's grant team is always here to answer questions and explore safety funding opportunities. If you want me to put you on a notification list, you can email don@crisisgo.com and just send me your email with a little about your individual needs. Thanks, and stay safe!